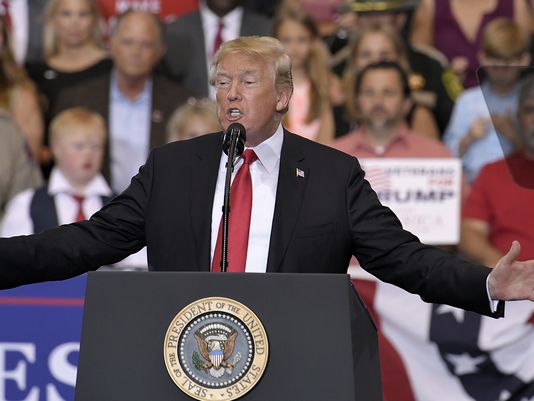 By: Keel Hunt 
—
I love a good floor-stomping barn-burner of a political rally as much as the next fellow. I grew up in Tennessee and it comes with the territory.
I learned early to enjoy the colors, noises and chaos of well-attended candidate events, from bean suppers over in East Nashville to the late Sheriff Fate Thomas' Sure-Shot Rabbit Hunters Supper held at the fairgrounds down on the south side.
Whether attending as a kid with my dad or solo as a news reporter later on, I learned to tolerate all the raucous hyperbole and good-natured pokes at the opposition by the candidate of the moment.
But that was before politics turned angry, the news cycles so unending and social media saturated, the campaigns so scientific and professional.
What happened downtown on May 29 — when President Donald Trump strode into Municipal Auditorium and delivered a calculated attack on U.S. Senate candidate Phil Bredesen — was a partisan hit-and-run, delivered at high volume, and nothing balanced about it.
It was a red-meat speech, aimed at a red-meat audience of true believers. It was high on heat, low on light, and a clear-eyed reminder of what happens these days when politics turns gratuitously, selfishly mean.
The event that was supposed to center on Trump's endorsement of Bredesen's GOP opponent, Rep. Marsha Blackburn, in the end seemed to forget her.
Trump's main message: If Bredesen wins, the Republicans lose their razor-thin Republican majority in the U.S. Senate. That's why our Senate race this year is the most watched in America.
Though his speech ran one hour, the president was skimpy on his facts. The tip-off came when he referred to Bredesen as "Philbert" (his given name is Philip).
In fact, anyone who has been in Middle Tennessee since the 1990s would barely recognize the Philbert that Trump was bashing.
No mention of the eight years Bredesen was mayor of Nashville (1991-1999) when he served through times of trial and triumph. He led the city in recovery from the 60-plus tornadoes of 1998 to the coming of major-league sports.
Not one word about his time as governor (2003-2011) when he insisted that Tennessee measure up in K-12 education — and getting it done by reaching across the aisle to work with Republicans in the Tennessee General Assembly. By the end of Bredesen's second term, the governor and legislature had made us the fastest-improving state in the history of the Nation's Report Card.
And not even a tip of the hat to Bredesen's hands-on experience in health care, to fixing the TennCare program he inherited, or to his book "Fresh Medicine: How to Fix Reform and Build a Sustainable Health Care System."
Speaking of "crossing the aisle," Bredesen has been very much in our state's deep tradition of moderate governors and senators. It was statewide elected officials, of both parties, who measurably brought Tennessee into the 21st century.
Vote, of course, for whomever you wish. Oppose Bredesen if you must. But you owe it to yourself not to fall for Trump's political theater. Make your choice based on facts, not campaign-trail dodges.
Last time Bredesen ran statewide, he carried all 95 counties across Tennessee. Recent polling shows he is immensely popular still.
President Trump can blow into town, crack his jokes, rail about "the wall," and leave. He can have his fun ignoring our voting history and belittling the public servants we have come to admire. But we know how to make our own choices, be it Republican or Democrat, without anybody's help from the outside.
The greater number of us don't need to depend on the president's florid sideshow to tell us what to think and whom to choose at the ballot box come November.
We know Phil Bredesen's proper name, thank you, and more so his proven record of public service.
—
Keel Hunt is a Tennessean columnist.
Reach him at Keel@TSGNashville.com
Photo: Shelley Mays / Tennessean.com